Digital Signage in Scotland
Looking for a digital signage solution to suit your business needs? We provide digital signage design and installation solutions throughout Scotland.
Engage your clients boost sales
Digital signage solutions
Keep your customers informed in real-time. From key information, advertising, Pricelists, and news feeds. Using Cloud-based solutions it's never been quicker or easier to interact with your customers.
Cloud based
update your signage, anywhere anytime with state of the art digital signage software.
High impact
Brighter and more vibrant than domestic Screens
Longer life
Screens designed for 24/7 use. In bright environments.
Expandable
Easily start with 1 screen and add more as you grow.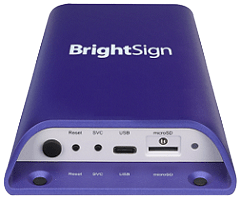 Digital Signage players
Maximise the impact of your content using, Brightsign interactive media players. Schedule your content 24/7.
"Consumers are paying attention to the information presented to them and acting on it, whether they are drawn to a location featured on an ad, discussing the ad with friends and family, or attending an advertised event."

Nancy Fletcher, Outdoor Advertising Association of America
Digital Signage Displays
Choosing the correct commercial TV for your installation is important. Choosing the wrong screen for the location can affect the impact of the effectiveness of your message. We can help install your digital displays in Scotland.
---
Outdoor Digital signage
Outdoor LCD displays are built to withstand temperature highs and lows and elements such as rain and wind, as well as using special glass and coatings that protect against vandalism and graffiti.
They're designed to be readable even in bright sunlight, which requires a high brightness level of at least 2,500 nits. These screens may also feature technology to make them clear and sharp to people wearing polarized sunglasses.
POS Digital Signage
Most indoor flat-panel displays use LCD (liquid crystal display) technology. The commercial-grade version typically consists of a protective glass layer, an LCD sheet with a light source behind them.
They have brightness measurements up
to 700 nits, which is bright and readable in indoor
situations but washes out in full sunlight.
Window Digital Signage
These displays are designed to hang indoors but face outdoors and still be easily visible and readable in the bright sunlight.
They typically generate up to 2,500 nits of brightness, but do not feature the rugged enclosures of outdoor LCD displays. Usually in storefront windows, either individually, stacked in totems, grouped to make a video wall or digital menu boards.
Consumer TVs vs. Commercial-Grade Displays
Many companies make the mistake of using consumer TV's for Digital signage. By doing so these businesses' messages may not have as much impact and they are missing out on important digital signage features that consumer TV's lack.
What are the main differences? Consumers TV's are Built on the basis they'll rarely be on for over 12 hours a day. Using Consumer TV's in a commercial environment will void the warranty. As the consumer market is price-driven, these TV's are lower specifications and build quality to save money.
Businesses want digital signage run 24/7 with the ability to work indoors or out. Resulting in Commercial TV's having higher specifications, build quality to deal with the added wear and tear, in multiple environments without straining the components.
Manufacturers build Commercial Digital signage displays using heavier duty materials and components designed to withstand heat, severe weather, vandalism, and hacking and offer extended, more robust warranties.
Commercial grade Signage displays designed for use in both landscape and portrait installations, allowing for more creative and eye catching displays. They also offer a higher flexibility in terms of control and connectivity, network control and RS232, bypassing the limitations caused by consumer TV's relying only on IR remotes.