Rental of Broadcasting and streaming equipment in Edinburgh can be more affordable than you think.
With streaming becoming a very platform for reaching your customers, we understand that using a mobile phone might not give the best corporate image, while getting a full scale AV system may be out the budget.
We now offer a range of easy to use camera's, microphones and streaming equipment making it easier for you to reach your customers without breaking the bank.
Stream Directly to Facebook live, Youtube live, Twitch, your own website and many more!
Hire Camera's & Camcorders For streaming
We can provide Camera's or Camcorder's with a clean HD output for streaming. Depending on your stream length. Camera's are limited to 30min record time, camcorders are unlimited.
We have a range of camera's available all chosen for Vlogging and live streaming. Ensuring the best possible feed for your stream.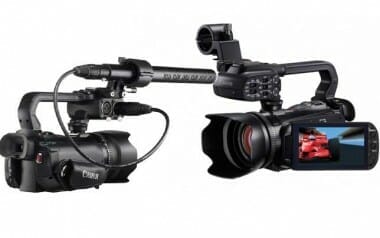 Our most popular professional camera benefits from a fast, wide-angle, HD Video lens (30.4mm, F1.8). Features a shockless, variable speed 10x optical zoom and 8-blade iris for more attractive bokeh effect. Which really makes the subject of the feed stand out. Capturing Full HD video at native 1920×1080 resolution.
The benefit of using a professional camcorder is the ability to use external audio inputs. Don't let your live stream down by unclear echo'd or muffled sound. Professional camera audio options include 2x XLR inputs, a 3.5mm microphone input jack and a built-in, low-noise microphone. Audio is recorded in 2ch Dolby Digital format. Your options are endless using any combination of inputs to acheive the best sound possible.
While our most popular hire camcorder has been chosen to offer compact plug and play features for beginners. It also has full manual control for more advanced videographers. A manual lens ring allows intuitive control of focus. Full manual control of exposure, aperture, shutter speed and gain is possible via the Touch-screen LCD. A custom key and control dial put you in complete control of your creativity.
Hire Video encoders for streaming

Video encoders can take any HDMI feed and output it directly to a streaming platform. This means you can use a professional camcorder and stream live to your facebook with little to no technical knowledge. Simply log in and go!

Add graphics, overlays, text, and more to your stream.
Switch between live and pre-recorded videos.
Stream to any online video platform, including Facebook, YouTube, Twitch, and others.

All from one little box, no need for Computers, HD capture cards or video mixing software.

These can be run on mains or battery power, you can even use your mobile or tablet device to wirelessly monitor and control the feed.
Rent Microphones for video streaming
Depending on your live broadcast, there are a range of microphones available to suit your exact use. Wireless lavalier and headset microphones for live video demonstrations. Lectern microphones for live corporate video presentations and many more.
For multiple audio sources we can provide audio mixers from simple 2 channel desks to 32 channel desks.